In not so many words, Mo Twister denied having any knowledge of being responsible for releasing the video talking about the Rhian Ramos abortion.  He said that some months ago, he met with Rhian, her lawyers and family members, and they deleted the videos and files from his laptop while in that conference.  He goes on to explain that he begged them to preserve them but they deleted them all anyway.
And now this expose.  He regrets the video leaking out, and he regrets going on with the abortion.
Poor Rhian.
At this point, I don't think any parent will be eager to have Mo Twister as the suitor of their daughter.
Small consolation for Rhian.
Going viral is a certain news clip from Gma 7 that showed a car braving a flooded street, only to realize that the flood level is quite deep. He was interviewed by Gma7 and this video has gone viral. Even has its own facebook page with 27,000 likes as of now.
In the comic book actual Captain america storyline, Cap is a 1940s world war 2 hero, so how did he get to our time and join the Avengers? During a battle in the 1940s, he fell down to the river and was iced over, supposedly placed unwillingly in suspended animation.  Nick Fury and the Shield of our time searched for him, cut out the ice, and thawed him out, just in time to form the Avengers!
This movie trailer post credit comes right at the end of the current Captain America the First Avenger movie.  There are even fake trailers at the bottom.
The real trailer here:
Fake trailer with surprise rick astley mtv spliced in
weird al yankovic has done it again with his new video parody interpretation of lady gaga's born this way called perform this way.  It currently has over two million views in youtube!
The master musical parodist gently mocks Gaga's persona in a series of increasingly unbelievable costumes, some of which you may see in your nightmares.
http://www.youtube.com/watch?v=MRBkLH2Dr3Y
According to Perez Hilton's blog, www.perezhilton.com, the newest youtube sensation to hit the internet is none other than 10 year old filipina, Maria Aragon from Winnipeg, Canada.  Her youtube video hits the four million mark just a few days after loading it.   Another proud pinay to watch out for!!
http://www.youtube.com/watch?v=xG0wi1m-89o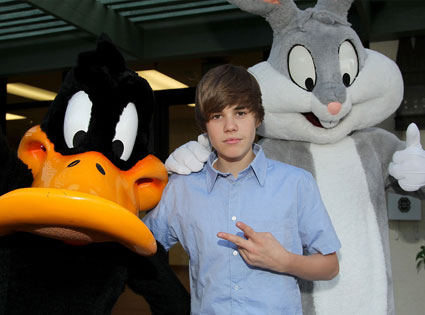 Date of Birth
1 March 1994, Stratford, Ontario, Canada
Birth Name
Justin Drew Bieber
Nickname
JBiebs
Height
5′ 7″ (1.70 m)
Justin Bieber was born March 1, 1994 in Stratford, Ontario. He is a Canadian pop and R&B singer and Scooter Braun, who later on became Justin's manager, discovered his performances on YouTube. Braun arranged for him to meet with Usher in Atlanta, Georgia and Bieber was soon signed to the Raymond Braun Media Group (RBMG), which is a joint venture between Braun and Usher, and then to a recording contract with Island Record that is tendered by L.A. Reid.
Watch Kris Aquino's tell all interview regarding her decision to split up with her husband of five years, James Yap.