In the comic book actual Captain america storyline, Cap is a 1940s world war 2 hero, so how did he get to our time and join the Avengers? During a battle in the 1940s, he fell down to the river and was iced over, supposedly placed unwillingly in suspended animation.  Nick Fury and the Shield of our time searched for him, cut out the ice, and thawed him out, just in time to form the Avengers!
This movie trailer post credit comes right at the end of the current Captain America the First Avenger movie.  There are even fake trailers at the bottom.
The real trailer here:
Fake trailer with surprise rick astley mtv spliced in
You thought only Thor and Iron Man had their post credit ending spoiler cut scene extras?  Well, Hal Jordan also has his own spoilers in the DC  Movie Green Lantern, and it was so cool seeing Sinestro don the yellow ring.  The good thing about it is we didn't have to wait too long for the whole credits to end before the spoilers came.  It was right after a few seconds after the last scene.
Check out the movie ending here!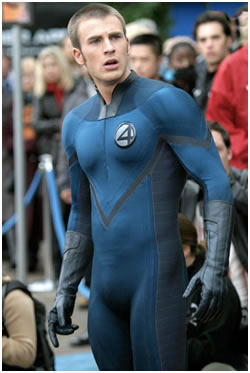 Fantastic Four's Human Torch Chris Evans now plays Captain America, won't this create some sort of confusion in the Marvel world?  Captain America's superherodom was born from world war 2, he was later frozen in ice, and revived by Iron Man and Nick Fury and Shield to form Avengers just in time to deal with a rampaging hulk.
Does this mean the Avengers can never meet the Fantastic Four in one same movie?
Did you miss the secret segment after the credits in the movie Thor?  Well, we and a lot of other movie goers were used to this special easter egg by Marvel and waited for this secret shot:
Iron Man 2 the movie's post credits secret ending actually leads up to Thor, showing his hammer Mjolnir, check it out!
Many may not know it but before appearing as the gorgeous hunk Thor, Chris Hemsworth played James Kirk's father in the 2009 movie Star Trek, the one that got blasted early on in the movie.
Early life
Hemsworth was born and raised in Melbourne, Victoria, Australia. The son of Leonie and Craig Hemsworth. He later moved to Phillip Island, south of Melbourne, with his family. His older brother Luke and younger brother Liam Hemsworth are also actors, and have had recurring roles as Nathan Tyson and Josh Taylor on Neighbours, respectively. Hemsworth attended Heathmont Secondary College in Melbourne.
Career